Transform 285/400 Project
The currently removed sound barriers on the north border of the neighborhood (Ashwoody Trail, Oak Forest Court, and Brawley Circle) are a result of the "Transform 285/400" project, which is expected to be completed in 2021. See the GDOT website for more information on that project.
The GDOT published an update on Noise Barriers (PDF – 191 KB) on November 9th, 2020. "Barrier 8" on the south side of I-285 from Ashford Dunwoody Road to Chamblee Dunwoody Road is scheduled to be rebuilt starting in January 2021 with estimated completion in September 2021.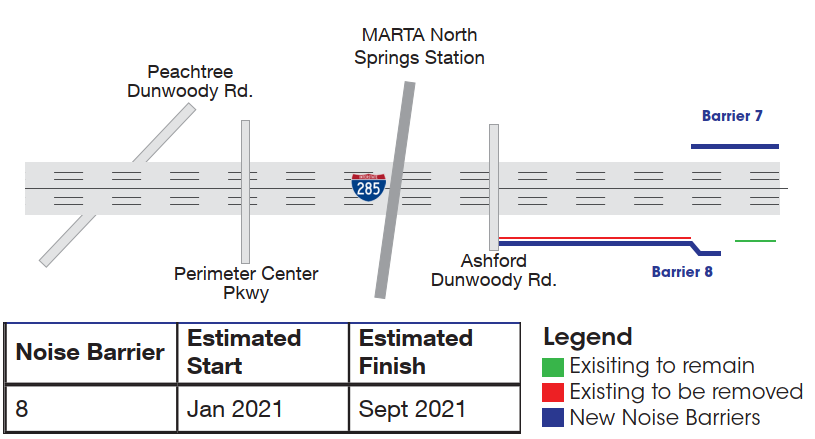 I-285 Expansion and Toll Lanes
GDOT has proposed multiple projects to expand I-285 and add Express Toll Lanes between Ashford Dunwoody Road and Chamblee Dunwoody Road. These projects have the potential to negatively impact our neighborhood for the benefit of commuters from outside the Perimeter.
The I-285 East Metro Express Lane project is expected to begin construction in 2023. See https://majormobilityga.com/projects/topend/ for more detail.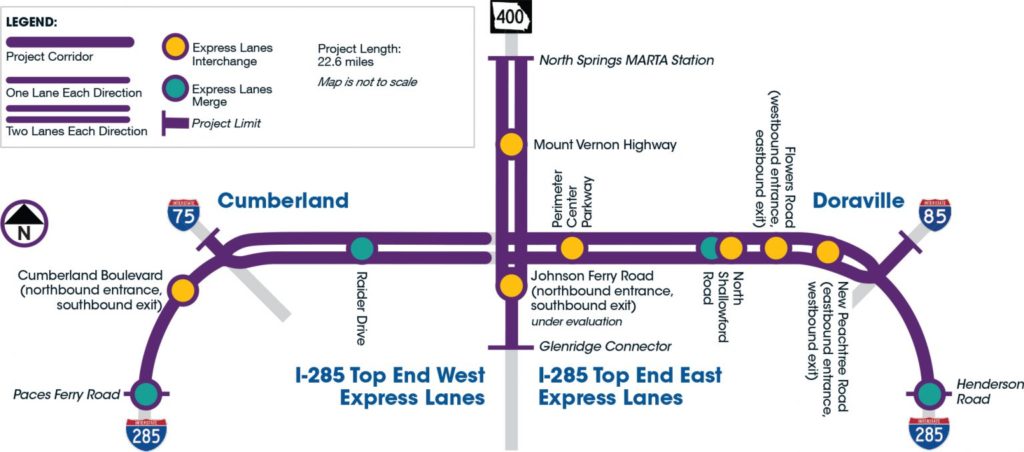 Prior to construction of the Express Lanes, local projects involving free-use lanes are still planned:
I-285 westbound collector-distributor lanes: The dedicated lanes for interchange-users would run from Chamblee-Dunwoody Road to Ashford-Dunwoody Road in Dunwoody. They would be extensions of similar lanes being built now for the Transform 285/400 project. Construction would start in 2022 and open to traffic in 2024.
I-285/Peachtree Industrial Boulevard interchange: Improvements to the interchange near eastern Dunwoody include adding collector-distributor lanes. Construction would start in late 2021 and finish in late 2023 or early 2024.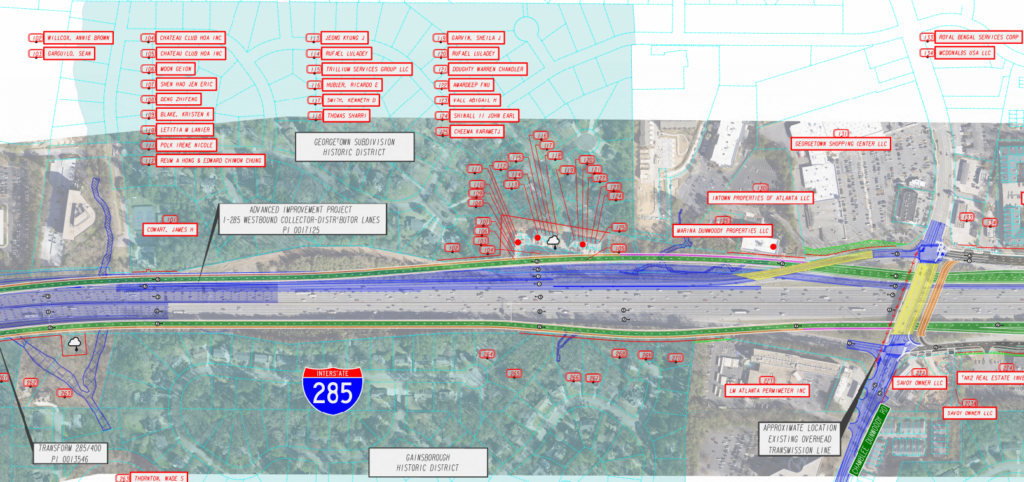 Latest Developments
On January 21st, 2020, GDOT released a 10-minute video visualizing the Express Lane project. Jump to the 7 minute mark for the flyover from GA-400 eastbound towards Ashford Dunwoody Road & Chamblee Dunwoody Road.
Links
https://www.reporternewspapers.net/2020/01/21/new-gdot-maps-show-properties-that-could-be-impacted-or-demolished-by-i-285-top-end-toll-lanes-project/
https://www.reporternewspapers.net/2019/10/08/toll-lanes-construction-delayed-by-years-some-free-i-285-lanes-coming-sooner/
https://www.ajc.com/news/state–regional-govt–politics/georgia-dot-rolls-out-plans-for-285-toll-lanes/I8FObzowjTDxl46pUo5zLL/
Last Updated: November 22, 2020